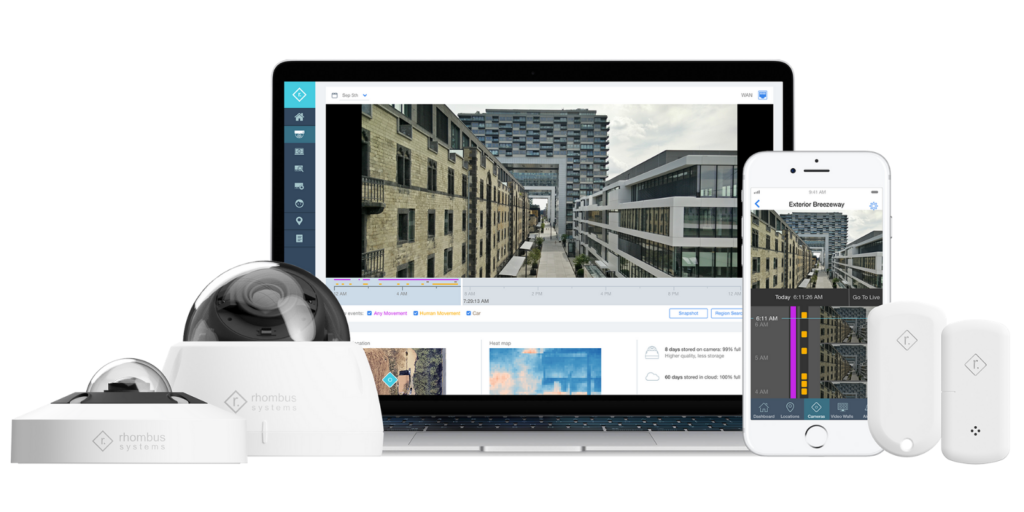 Benefits Of Cloud-Based Video Surveillance Solutions
Cloud-based video surveillance solutions offer a number of benefits over traditional on-premise video systems. Here's what you need to know to get started.
Cloud systems utilize IP cameras and a cloud VMS. They are hosted predominantly in the cloud and are accessible via the internet through a web browser or mobile device. As a result, tasks that typically require on-premise hardware—like processing footage, storing video, and managing devices—are handled in the cloud, simplifying infrastructure and hardware requirements.
A cutting-edge cloud-based system makes video security easy and requires far less maintenance and hands-on management than traditional on-premise systems, helping property owners and managers save time and money. As a bonus, cloud video solutions use AI and Machine Learning to help administrators review a day's worth of footage in minutes, find and share specific footage in a few clicks, and receive immediate notification for urgent events.
Cloud-based solutions differ from traditional options in many ways. On-premise systems require DVR/NVRs, servers, hard drives, and a local viewing station. These systems are siloed, lack native remote access, and often require you to be on-site to view video, troubleshoot or perform maintenance.
With a cloud solution, the only piece of hardware required is the camera, which drastically reduces complexity and maintenance. Remote access allows you to deploy unlimited devices/locations, and the system continually gets smarter with automatic firmware updates.
Anyone hoping to tap this technology should choose products carefully. LVC interviewed 10 cloud companies and did a deep dive into their businesses before partnering with Rhombus Systems, which offers stellar cloud solutions and world-class cameras.
Rhombus' Director of Marketing Jordan Shou explains that Rhombus cameras can be set up via PoE and come online in minutes. "Once online, cameras record and store footage directly on the device for up to 180 days, depending on the model," he says. "Our cameras consume hardly any bandwidth (as low as 10 Kbps), can operate on a cellular connection, and continue operating during network outages."
LVC customers also enjoy another feature of Rhombus devices: IoT sensors can be added to provide deeper, more actionable insights. Plus, all Rhombus devices can be remotely managed from a web-based console or mobile app and custom alert policies can be configured to issue real-time video alerts for suspicious behavior.
"Generally, the cloud is as safe, if not safer, than other systems," Shou notes. Of course, this varies from manufacturer to manufacturer.
Rhombus was built by cybersecurity experts with a security-first approach. They also have end-to-end (at-rest and in-transit) encryption for all data and are routinely audited by third parties, with annual security penetration testing. Which is yet another reason LVC chose Rhombus over the competition.
For more information on the benefits of cloud-based video surveillance solutions, visit our National Security & Services page, email NationalSales@LVCinc.com or call (952) 835-4600.