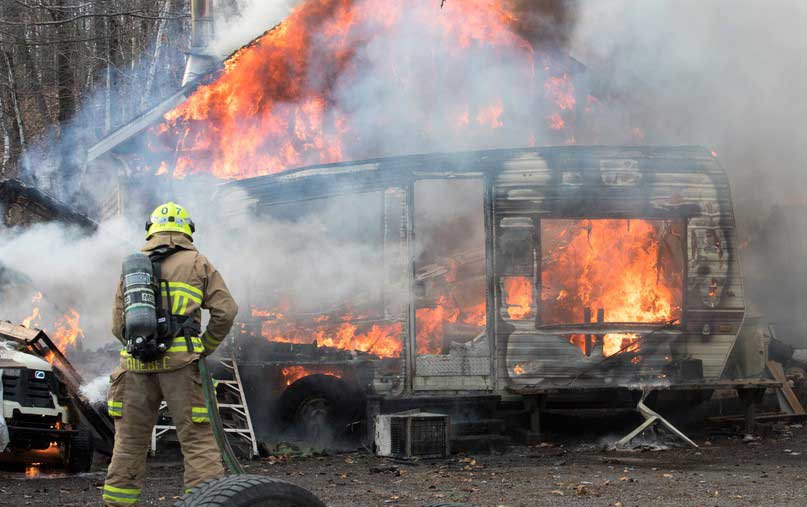 Choose the Right Fire Extinguisher for Fishing, Boating, and Camping
Fishing, boating, and camping are wonderful ways to enjoy the great outdoors. But along with the fun comes the risk of fire. Knowing how to choose the right portable fire extinguisher for outdoor adventures is critical, because accidental fires can happen in the boat, at the cabin or campsite—even in your own backyard while cooking or gathering around the firepit.
Prevention is key to reducing the risk. But even with preventative measures, fires can still occur, creating a frightening experience that produces devastating and potentially fatal results.
Since help may be a long time coming in the backcountry or the middle of a lake, your ability to put out the fire yourself could spell the difference between a minor flare-up and a raging inferno. This begs the question—are you ready to stop a fire before it threatens life and property?
One of your best weapons in emergency fire suppression is a portable fire extinguisher.
"Portable fire extinguishers are your first line of defense to put out a fire," says fire suppression ace and avid outdoorsman Corey Kangas. As manager of portables and pre-engineered fire suppression systems for LVC Companies, Kangas knows plenty about choosing and using fire extinguishers.
"Having a portable fire extinguisher close at hand can dramatically improve your odds of stopping a fire before it gets out of control," Kangas continues. "But only if it's in working order and is the right size and type of extinguisher for the fire at hand."
Here's what you need to know to choose the right portable fire extinguisher for every situation, and make sure it's ready to go in case of emergency.
Controlled combustion is critical to many aspects of everyday life, from propelling cars to heating homes. Left to its own devices, however, fire can be destructive and deadly. To fight fire and win, it helps to know a bit about how fire works.
Fire needs four things to flourish: enough heat for ignition, enough oxygen for combustion, a fuel source to burn, and the resulting chemical reaction that produces fire. Fuel, heat, and oxygen are often referred to as the "fire triangle." Add the chemical reaction and you have a four-part "tetrahedron."
"Take away any one of those four elements and the fire goes out," says Kangas.
Heat or ignition sources include equipment or materials that emit sparks or flame, radiate heat, or generate static electricity. Fuel sources include combustible materials, flammable liquids, and flammable gases. Oxygen comes from air in the atmosphere. The chemical reaction occurs when fuel is heated to the extent that (if not already a gas) the fuel releases gas molecules, which combine with oxygen and burn. Heat generated by these reactions keeps the fire going.
"Despite misconceptions to the contrary, dry chemical fire extinguishers work by interrupting the chain reaction," Kangas says. "They don't displace oxygen. And they don't smother a fire. Certain types of dry chemicals form a molten residue that sticks to burning embers. But that's as close to 'smothering' as they get."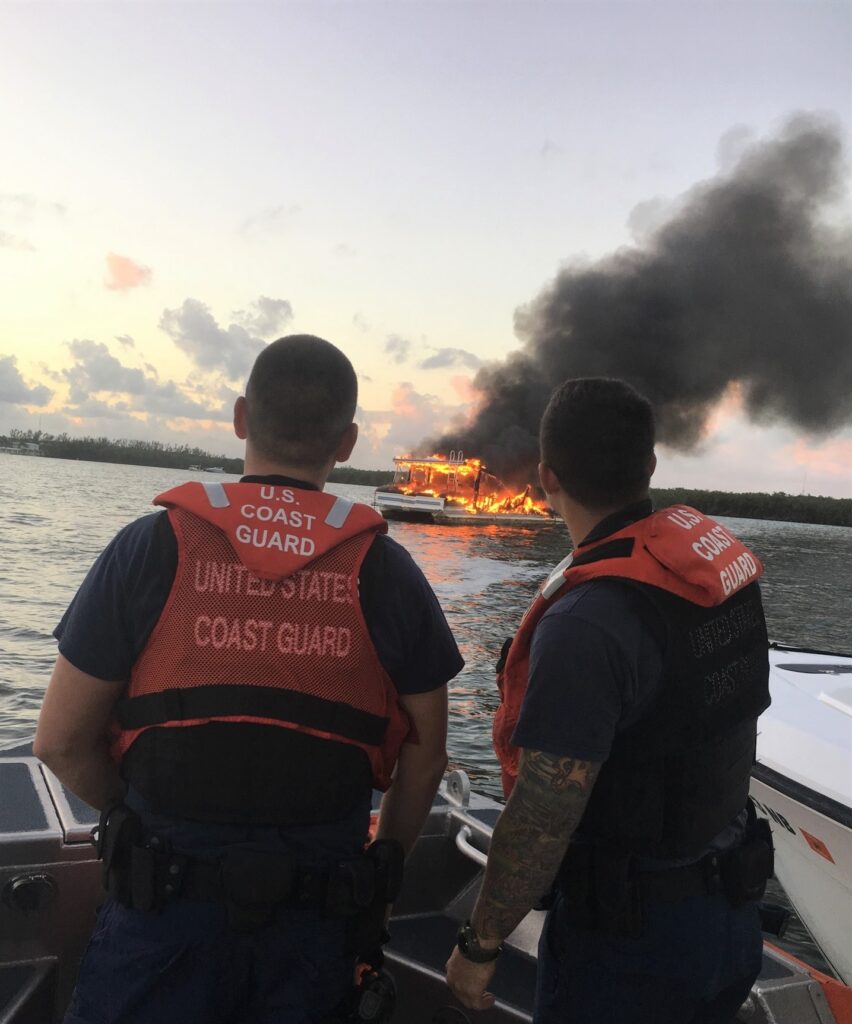 Types of Fires and Extinguishers
Fires are classified as A, B, C, D, or K based on the type of substance fueling the fire. Portable fire extinguishers are classified by the type of fires they are designed to extinguish. "Choosing the right extinguisher is essential," says Kangas. "Because the wrong type won't put out the fire and can actually make a fire emergency worse."
Class A fires involve ordinary combustibles, such as paper, trash, some plastics, wood, and cloth. A rule of thumb is if it leaves an ash, it is a Class A fire.
Class B fires involve flammable gases or liquids, such as propane, oil, and gasoline.
Class C fires involve energized electrical components.
Class D fires involve combustible metals such as aluminum, magnesium, beryllium, and sodium.
Class K fires involve vegetable or animal cooking oils or fats typically used in deep fryers or griddles.
Many portable extinguishers are rated for use with more than one classification of fire. An extinguisher with a BC rating is suitable for use with fires involving flammable liquids and energized electrical equipment. An extinguisher with an ABC rating is suitable for fires involving ordinary combustibles, flammable liquids, and energized electrical equipment.
"An extinguisher that is rated for use with multiple hazards should include a symbol for each hazard type," Kangas notes. "ABC is the most common and recommended to have on hand."
Class K Conundrums
Deep-frying fish and other foods is common practice for outdoors enthusiasts across the country. Yet few people keep a Class K fire extinguisher handy in the cooking area. And that can be a costly mistake.
"If you're deep-frying fish and the oil superheats to its 600-degree flashpoint, it can self-ignite, causing a volatile fire that's tricky to extinguish," Kangas warns. "Class B or multi-class extinguishers won't be effective because even if they extinguish the fire for a moment, it will re-ignite—again and again—as long as the oil is at the flashpoint. And if you throw water on it, you'll only spread the fire. Baking soda will extinguish grease fires, but only if they're small—it takes a lot of baking soda to do the job in an outdoor cooking setting, more than most people use in a lifetime. Besides a Class K fire extinguisher, the only other option is to put a steel lid over the fire and starve it of oxygen."
Kangas also cautions that first responders such as law enforcement personnel may not be equipped with Class K fire extinguishers, as these are typically not standard issue for patrol vehicles. "So you're waiting for the fire department to arrive, in which time the fire can spread to adjacent buildings or other property."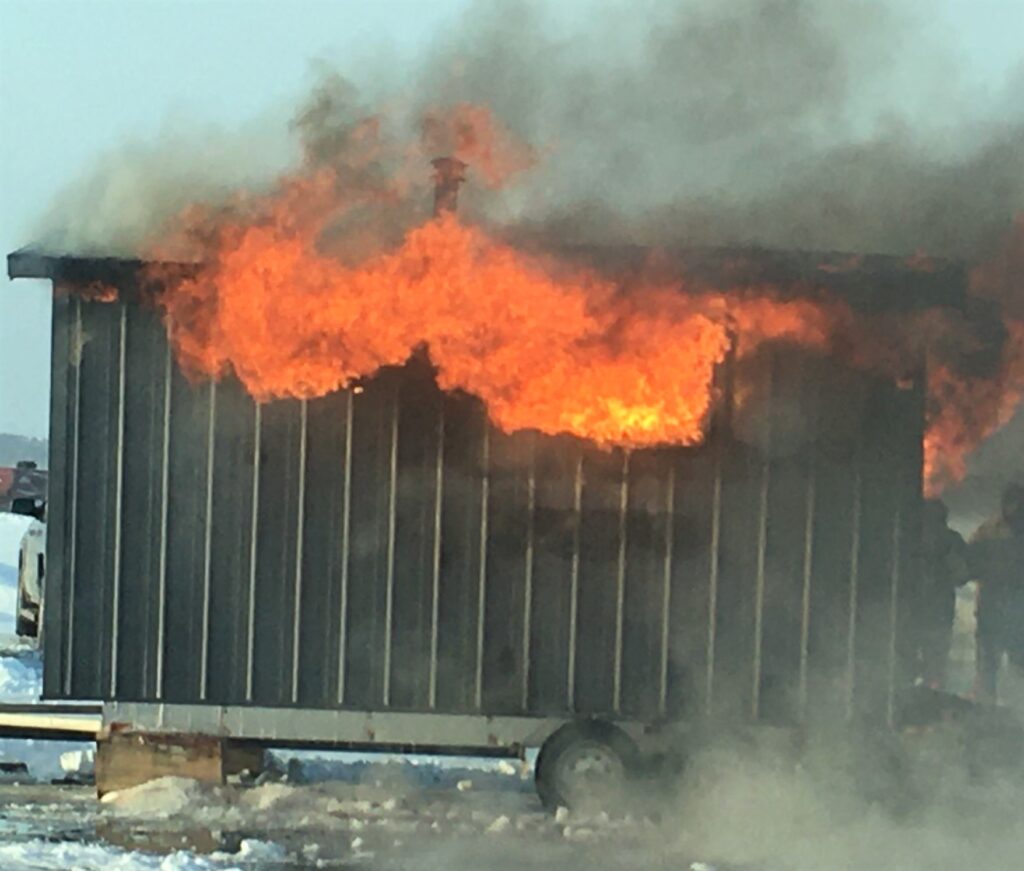 Fire Extinguisher Requirements
It's smart to know and follow federal, state, and local fire codes, including requirements for portable fire extinguishers in boats, homes, cabins, and recreational vehicles. But don't stop there. Carefully consider all potential threats and outfit yourself with the extinguishers you need to stop them.
"Take a hard look at the extinguishers that came with your boat, camper, or wheelhouse-style fish house," Kangas cautions. "For example, prior to 2021, the
National Fire Protection Association
(NFPA) didn't require RV manufacturers to provide a Class A rated fire extinguisher. The Class BC extinguishers that came standard with these campers are designed for flammable liquids and gasses, and fires involving live electrical equipment.
"But they won't put out a fire with combustibles such as wood, paper, or fabric. Most RV owners aren't aware of this fact. With an estimated 20,000 RV fires annually in the U.S., that's a lot of people being surprised their portable fire extinguisher isn't up to the challenge."
Even if you aren't required to have a fire extinguisher in a certain situation, it's still smart to have one handy. Boats not required to carry fire extinguishers are a great example. "If your outboard motor or fuel tank catches fire and there's no way to put the fire out, you're going overboard," says Kangas. "In frigid waters, a prolonged dunking can be fatal even if you're wearing a personal flotation device."
Size Matters
Fire extinguishers come in different sizes, which are measured in pounds and indicate the amount of fire-fighting chemical inside the tank. Kangas recommends 5- to 10-pound choices for consumer applications.
"Portables smaller than that don't really give you a fighting chance," he says. "Five pounds is generally sufficient for the average size room or for use on a fishing boat, while 10 pounds is better for a garage, workshop, or other larger area. However, always factor in the physical capabilities of yourself and other adults who might need to use the extinguisher. You're better off with a 5-pound unit if a 10 pounder is too heavy for a member of the family to easily maneuver when fighting a fire."
Shop Smart
When shopping for a fire extinguisher, you get what you pay for. "Cheaply-made 'bargain' extinguishers that cost $20 or $30 don't hold a candle to high-quality portables," says Kangas. "Drawbacks of low-cost, non-rechargeable models include flimsy plastic valves and handles, tanks made of mystery metal, and cheap pressure gauges that are barely clipped on.
"For $70 or so, you can upgrade to a heavy-duty rechargeable unit that will last for years," he continues. "For example, the rechargeable 10-pound
ANSUL Sentry ABC
features a high-tensile strength, seamless steel cylinder tested in excess of 600 psi, plus other durable components including a reliable metal valve and screw-in pressure gauge."
Fire Extinguisher Maintenance and Inspection
With proper inspection, testing, and maintenance, portable fire extinguishers can be long-lasting and reliable fire-stopping options.
"Monthly inspections are a great first step in making sure your portable extinguisher is ready to go in case of emergency," says Kangas. Inspection procedures include: Make sure you can easily access the extinguisher. Ensure the pressure gauge is in the green area or operable position. Make sure it is full (this can be done by just lifting the extinguisher, or you can weigh it). For non-rechargeable extinguishers, operate the push-to-test pressure indicators.
"Also check for obvious signs of damage, including corrosion, rust, and dents," Kangas adds. "Check the hose for cracks, tears, holes, and punctures. Make sure the nozzle isn't plugged. Believe it or not, kids love to stick gum in the nozzle. Make sure the pull pin is present, too. Finally, check the date of the last professional inspection and required maintenance—schedule now if you're getting close to the time for the next service."
For more information on portable fire extinguisher inspection, testing, and maintenance procedures, visit the NFPA website: www.nfpa.org. To schedule an inspection, testing, or to inquire about purchasing a portable fire extinguisher that meets your needs, contact LVC Companies at Info@LVCinc.com or call (888) 582-4826.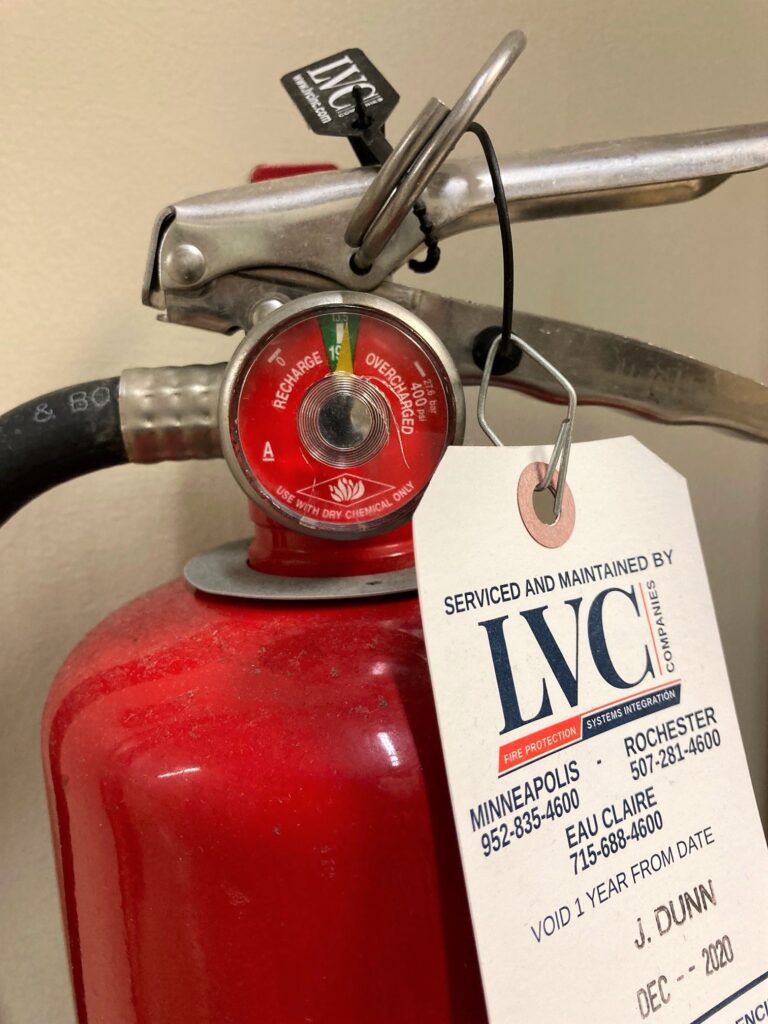 Know How To Use It
"Don't wait for a fire to figure out how your portable fire extinguisher works," Kangas cautions. "Read the instructions that come with the extinguisher and become familiar with its parts and operation. To take preparation a step further, participate in a
hands-on fire extinguisher training class
from your local fire department or fire equipment distributors like LVC Companies."
Following these precautions can help you make outdoor recreation infinitely safer. "It's also good advice for household and jobsite fire safety," Kangas points out. "Because portable fire extinguishers save lives and property in all kinds of settings."