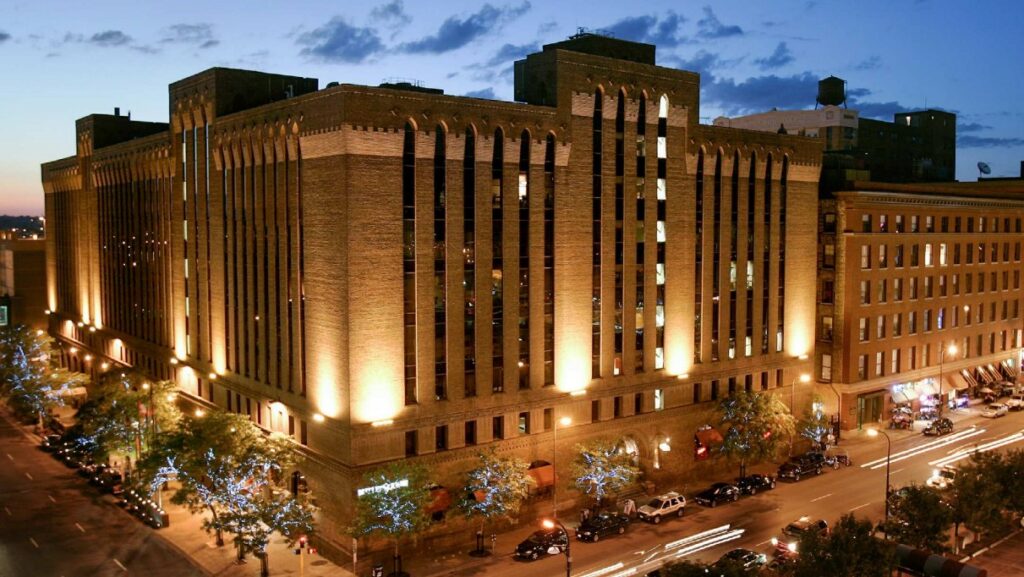 LVC Companies was proud to provide video surveillance and access control security solutions in the renovation of the historic Butler Square building in downtown Minneapolis.
The iconic nine-story, brick-and-timber structure at 100 N. Sixth St. has been a fixture of the city's Warehouse District for more than a century.
Built in 1906, it long served as a warehouse. But it also helped spark the Warehouse District's revitalization in 1974, when the east half of the building was renovated with a pioneering mix of offices, shops and restaurants set around a dramatic atrium.
The recently completed renovation project will help Butler Square continue to be a pillar of downtown for years to come.
Refreshing An Icon
Property owner Jane Mauer, along with McGough Construction and McGough Facility Management, led the ambitious refreshening project. Conceptual design began in mid-2019, with construction starting in January 2020. The project was completed in 2021.
Improvements included a new black carbon-steel staircase, conference center, tenant lounge, east atrium skylight, upgraded seating areas and lighting, plus new finishes, furnishings and more.
Preserving the integrity of Butler Square's award-winning, historic architecture while integrating new materials and technology was a major challenge embraced by Mauer, McGough and more than 100 sub-contractors working on the project—including LVC Companies.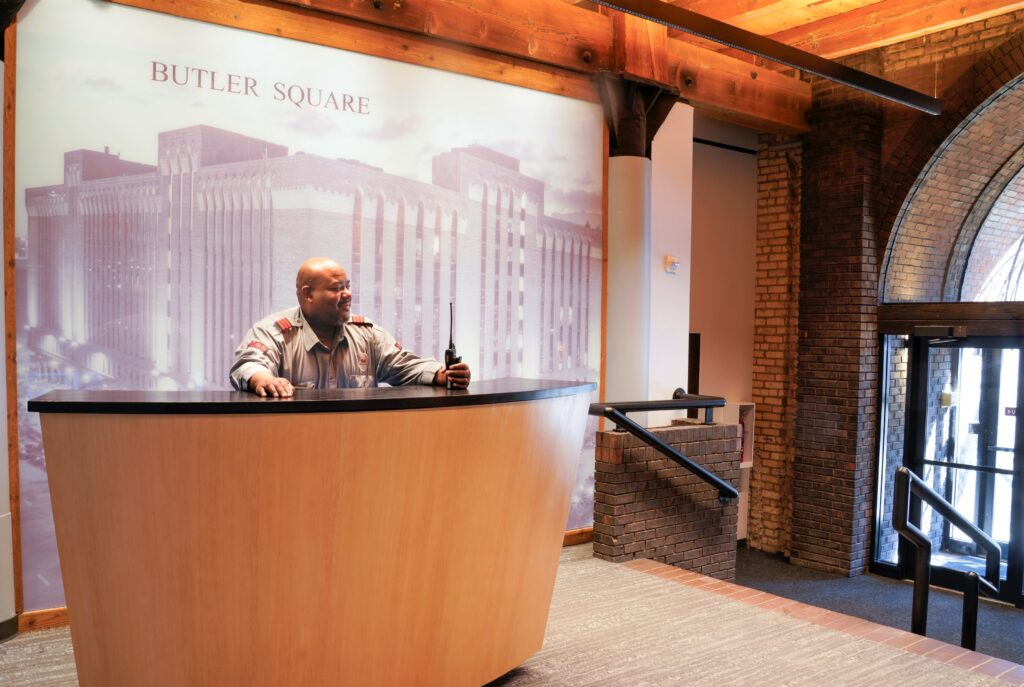 LVC was invited to safeguard the new and refurbished areas with enhanced video surveillance and access control. The company's solutions included adding cameras and card readers to their existing state-of-the-art Avigilon video surveillance platform and a Software House C•CURE 9000 access control management system. LVC originally installed and currently maintains these systems.
"LVC's video surveillance and access control solutions will allow the building's operations team and security personnel to better secure the building, prevent incidents from occurring, and provide historical information on who accessed the building, when and where," said McGough Senior Property Manager Angela Samargia.
Samargia commended LVC's Butler Square project team, led by technology consultant Diana Roy, project manager Rachel Schroeder, and foreperson Jason Miller. "The whole team was very responsive and great to work with," she said. "Their exceptional service and skills were greatly appreciated. We are truly thankful for their hard work and happy with the renovation."
When asked if she would recommend LVC Companies for similar projects, Samargia had no reservations. "Yes, because they offer an all-inclusive service, have a reliable team, and provide up-to-date industry products and services," she said.