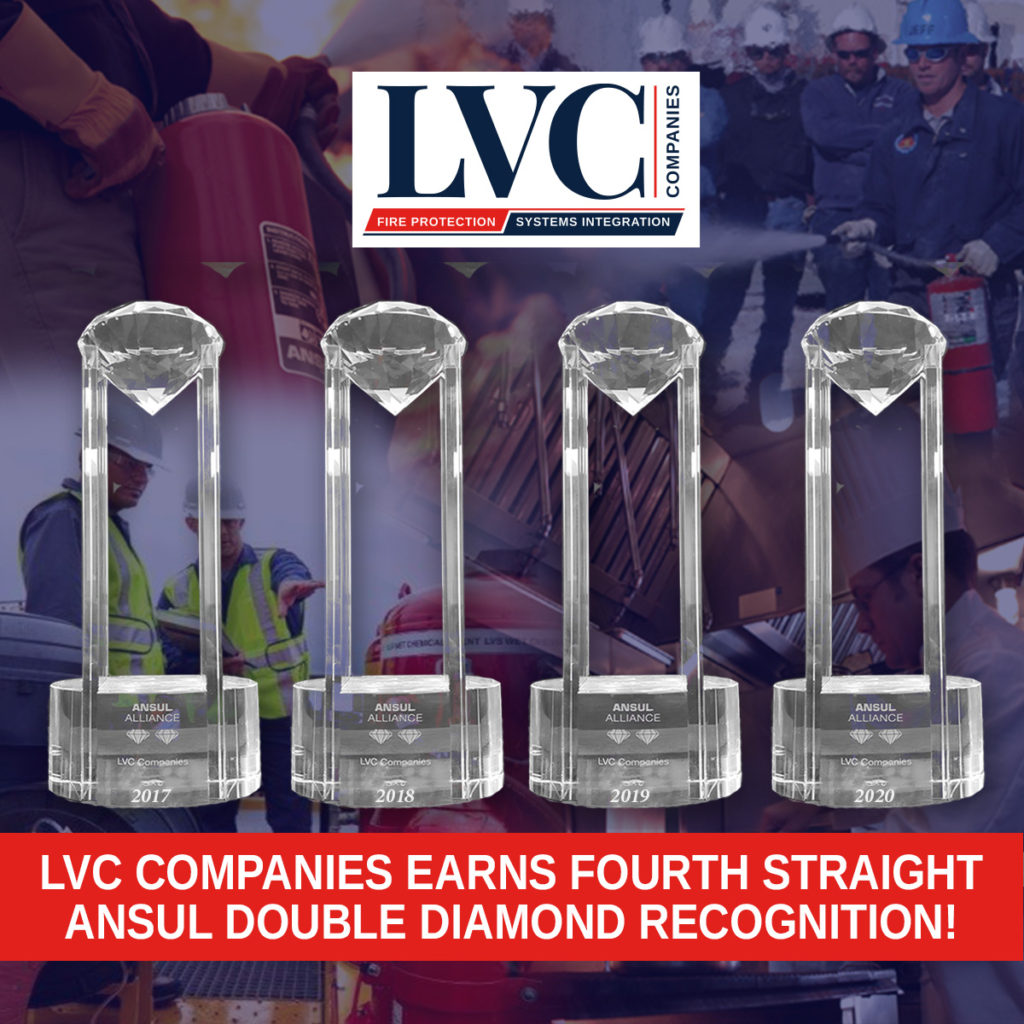 Minneapolis, Minn. – LVC Companies has earned prestigious Double Diamond Distributor honors from the ANSUL Alliance Rewards Program for the fourth straight year.
LVC utilizes
ANSUL's
lineup of special hazard fire protection products in a variety of applications, ranging from hand portables to pre-engineered restaurant, vehicle, and industrial fire suppression systems. Diamond Distributor distinction is based on achieving goals established by ANSUL's parent company,
Johnson Controls
.
"Consistently earning this level of distinction is a testament to LVC's commitment to protect and connect our customers with industry-leading life safety, security, and communications products and services," said LVC President and CEO Bert Bongard. "We are honored to receive this recognition, as less than 20 percent of ANSUL distributors achieve Diamond status."
"Reaching Diamond Distributor status is not easy, and we're proud to recognize and reward our top-producing ANSUL distributors for achieving this goal," explained Rick Foster, U.S. sales director for ANSUL's special hazard products.
Authorized ANSUL distributors regularly attend intense product training programs where they are instructed and tested in the design, installation, and service of ANSUL fire protection and suppression equipment. "This is but one component of LVC's rigorous training regimen that ensures our workforce maintains LVC's reputation for delivering cutting-edge technology, exceptional service, and complete customer satisfaction," Bongard noted.
About LVC
LVC is a full-service life safety, security, and communications technology provider. The company protects lives, assets, and revenue while delivering seamless information systems. Headquartered in Minneapolis with regional offices in northern and southeast Minnesota, western Wisconsin, and Phoenix, Arizona, LVC has a proven, 38-year track record of delivering customized solutions and exceptional service.
LVC's diverse offerings include state-of-the-art fire alarms, commercial and industrial kitchen hood systems, special hazard fire suppression, off-road heavy equipment protection, fire sprinklers, security alarms, video surveillance, electronic access control, emergency notification systems, specialty gas detection, voice/data networks, and smart building technology.
LVC has received more than 60 state, industry, and vendor awards. Notable achievements include Integrator of the Year accolades from Security Distribution and Marketing (SDM) magazine, the Minnesota Governor's Safety Award, NECA's Safety Excellence and Zero Injury awards, multiple Honeywell Diamond of Excellence and Million Dollar awards, and Honeywell's Community Service Award. LVC also routinely earns recognition on Inc.'s 500/5000 list of America's Fastest-Growing Companies.