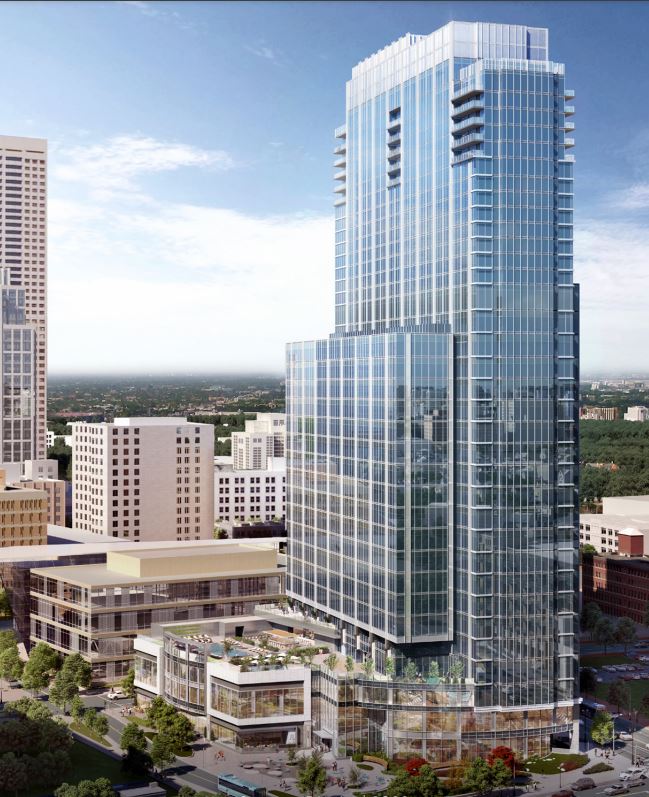 LVC Companies is proud to have provided the design and installation of fire, life safety, and emergency communications systems in the new RBC Gateway building in downtown Minneapolis. We're eager to continue to service these and other systems going forward.
The 37-story, mixed-use skyscraper rises 522 feet, 6 inches above the north end of Nicollet Mall, making it the 10th tallest building to grace the downtown skyline.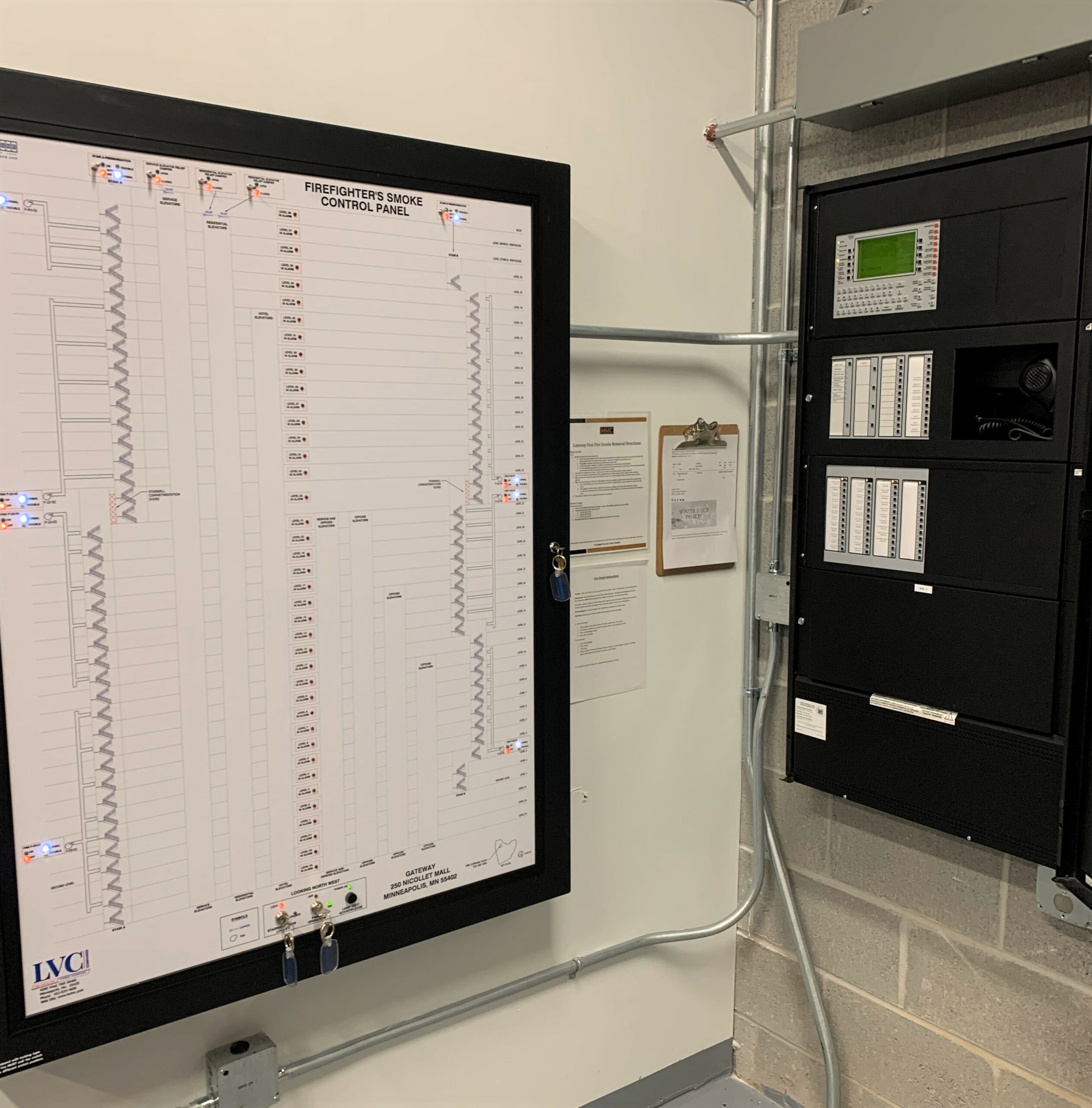 Located at the former site of the historic Nicollet Hotel at the convergence of Hennepin, Nicollet, and Washington Avenues, the 1.2 million-square-foot RBC Gateway features a blend of office, hotel, commercial, and residential space. It houses the U.S. headquarters of RBC Wealth Management, the Pohlad Companies, and a 222-room Four Seasons Hotel Minneapolis, the first 5-star luxury hotel in Minnesota. It also includes 34 luxury residential condominiums, a 17,000-square-foot public plaza with greenspace, and a street-level restaurant.
RBC Gateway's world-class blend of engineering, technology, and design was orchestrated by United Properties, JLL Project & Development Services, McGough Construction, and the architects of Smallwood, Reynolds, Stewart, Stewart & Associates, Inc. Upon completion, JLL will also provide property management support.
LVC Companies' role in the building's creation included a variety of fire, life safety, and communications solutions, to be followed up by ongoing 24/7 service and inspection support. "Eliminating the need to manage multiple sub-contractors for the design and installation of industry leading technology in these disciplines was a win-win for project managers," said LVC Sales Manager Mike Botten. "Our ability to provide world-class service after completion was an added benefit of partnering with LVC."
To address specific fire protection needs, LVC designed an innovative voice-evacuation fire alarm system built on NOTIFIER by Honeywell's high-performance ONYX 3030 platform, which excels in large-scale applications like RBC Gateway. The system features four master remote panels that can be operated independently of one another—a huge safety benefit in the event of a catastrophic emergency. 
LVC also designed and installed solutions to supervise and monitor the fire sprinkler system (including fire pumps); control elevators in fire alarm conditions; stair pressurization and post-fire smoke exhaust systems; and two-way emergency communications to ensure reliable contact with areas of refuge at elevator landings.
LVC's communications contributions also included ERCES emergency and cellular Distributed Antenna Systems (DAS). By enhancing police, fire, and EMT communications within the building, ERCES DAS is critical to the safety of RBC Gateway occupants and the safety and effectiveness of first responders in a variety of emergency situations. LVC's Commercial Carrier DAS amplifies cellular communications coverage within the facility.
The design and installation portion of the project is complete, but LVC's commitment to RBC Gateway property managers, tenants, and visitors continues. LVC provides inspection services for the building's fire alarm, gas detection, and special hazard suppression systems. LVC also performs annual portable fire extinguisher inspections. Additionally, LVC inspects and maintains fire extinguishers and kitchen fire suppression systems within the Four Seasons luxury hotel and residences. Our team of certified service technicians stands ready to answer emergency calls 24/7.