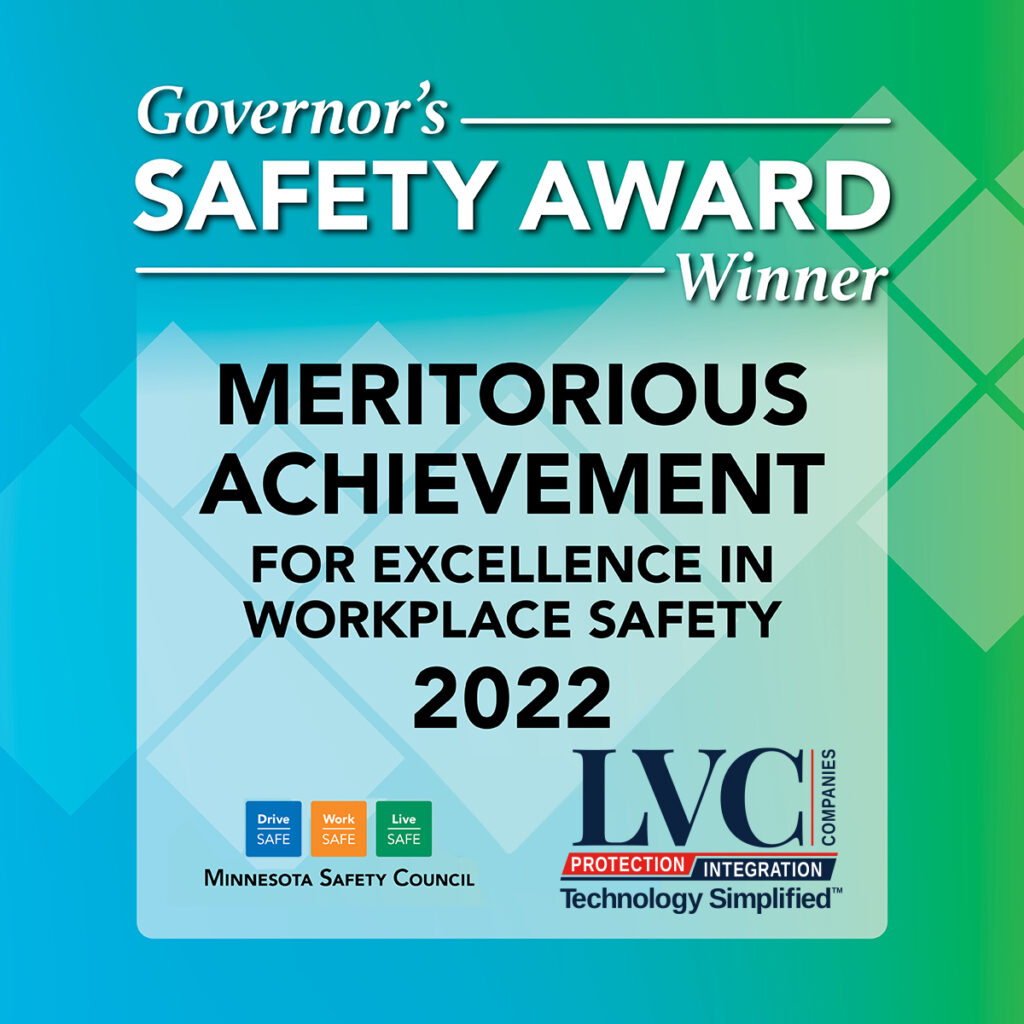 LVC Companies' workplace health and safety efforts have once again been recognized with the Minnesota Safety Council's Governor's Safety Award. This marks the 13th time since 2007 that LVC has earned this prestigious honor.
LVC was one of 210 Minnesota employers recognized for Meritorious Achievement. Attaining this level of recognition required having incidence rates better than the industry average for at least three years and earning high marks on a stringent 100-point safety program evaluation scale.
Since 1934, the annual Governor's Safety Awards program has honored Minnesota employers with exceptional safety performance. Applicants are judged on several years of injury data as it compares with their industry's national statistics, and on their progress in implementing a comprehensive safety program.
"Congratulations to LVC Companies for their hard work, attention and dedication to safety," said Paul Aasen, president of the Minnesota Safety Council. "Keeping people safe and achieving award-winning performance is no accident. It takes everyone from the front line to executive leadership to help people work safe, drive safe, and live safe."
"Ensuring the safety of LVC employees, customers, and other workers on our jobsites is a top priority," said LVC President and CEO Bert Bongard. "Our Safety Committee, management, and field staff work together to strengthen LVC's safety culture and maintain safe work environments to make sure that everyone returns home at the end of their shift."
LVC's industry-acclaimed safety training regimen includes OSHA and industry partner safety training programs, an automated online safety education platform, OSHA-approved AWAIR program, and weekly Toolbox Talks. "In addition to the Minnesota Governor's Safety Award, LVC has been recognized with the National Electrical Contractors Association (NECA) Safety Excellence Award and NECA Zero Injury Award," Bongard noted.
LVC also celebrates and participates in Construction Safety Week, which was observed May 1-5 in 2023. LVC's Safety Committee prepared a full agenda of safety-related content and activities including a series of safety videos, a safety quiz, family activities, and hands-on portable fire extinguisher training.
The Minnesota Safety Council, founded in 1928, is a non-governmental, not-for-profit organization dedicated to improving the quality of life in Minnesota by preventing unintentional injuries on the road, at work, at home, and in the community.