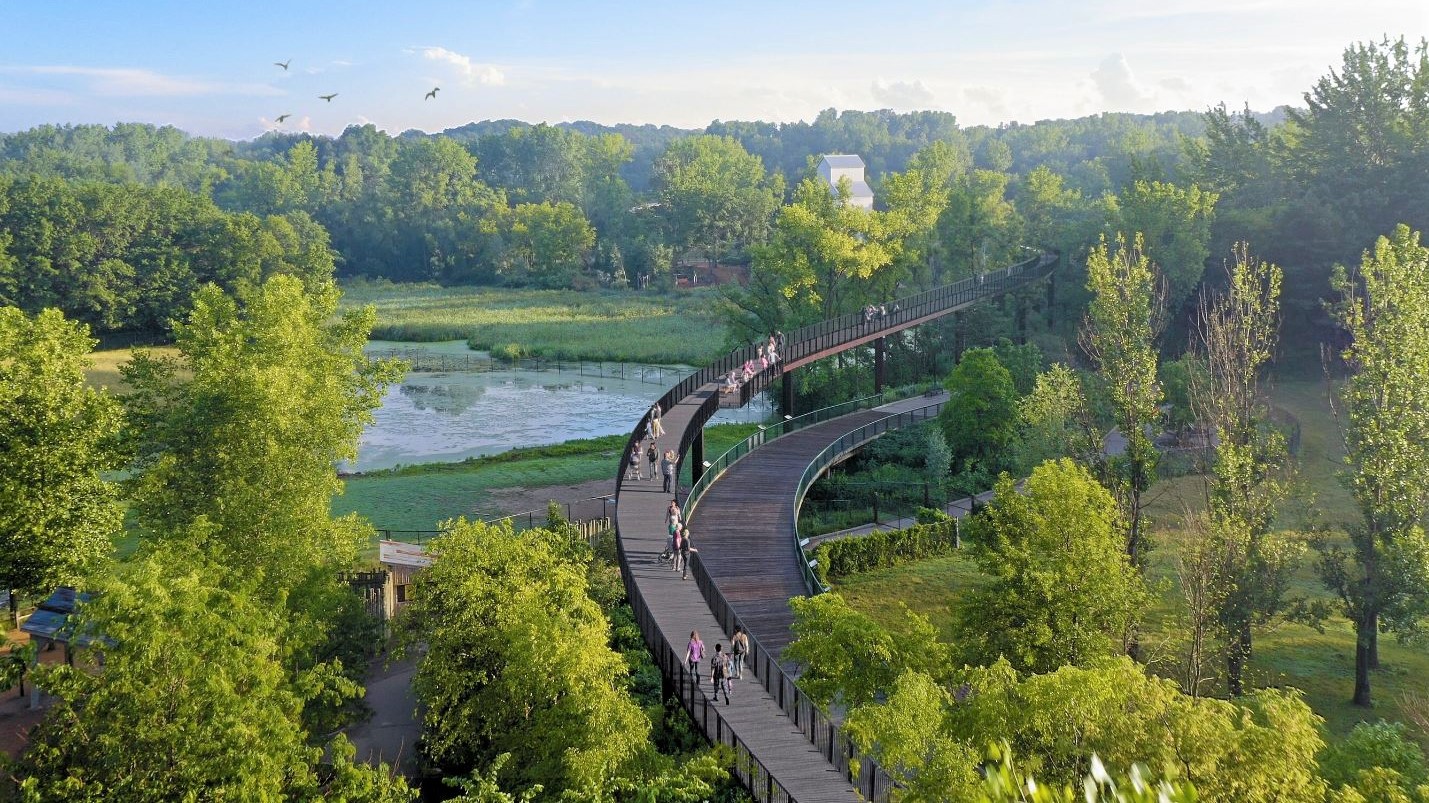 LVC Companies is proud to protect visitors on the Minnesota Zoo's new Treetop Trail. The 32-foot-high, 1.25-mile walking path opened to the public on Friday, July 28.The Treetop Trail will provide people of all ages, backgrounds, and abilities with a year-round, accessible journey into nature. According to zoo officials, it is the world's longest elevated pedestrian loop.The Treetop Trail repurposes the zoo's old monorail track, which was closed in 2013. Trail project planning began back in 2018 and construction kicked off with a ceremonial groundbreaking in 2022.
Project partners included Snow Kreilich Architects, PCL Construction, LVC Companies, and the engineering firm Buro Happold, which helped build Manhattan's High Line—a walking trail on a former elevated railroad.
To ensure zoo-goers' safety on the record-setting new trail, LVC installed a world-class video surveillance system. The system includes 24 i-PRO security cameras (models WV-S8573L, WV-S8574L, and WV-S25700-V2LN).
The 25-megapixel WV-S8573L and 33-megapixel WV-S8574L are the industry's thinnest multi-directional outdoor cameras with high-performance AI engines. They offer a host of features including advanced AI-powered analytics and operation; built-in 360-degree infrared LED for enhanced low-light monitoring; and color night vision. The 4K WV-S25700-V2LN also delivers AI analytics and clear, high-quality imagery from within a sturdy, vandal-resistant domed housing.LVC also updated the entire video surveillance system network, bringing all the zoo's security cameras online in one secure, state-of-the-art server.
Successful completion of the Treetop Trail is a milestone for the Minnesota Zoo, which opened 45 years ago in 1978 with a mission to connect people, animals, and the natural world to save wildlife.
"The Treetop Trail marks a new chapter," said Minnesota Zoo Director and Foundation President John Frawley. "As we look ahead to the zoo's next 45 years, the Treetop Trail is a major step in furthering connections to nature and animals in an accessible and immersive way."
LVC offers a full suite of video surveillance and other security solutions featuring technology from the industry's top manufacturers. We offer traditional and cloud-based systems to fit every need and budget. Contact us today for more information or to schedule a consultation.