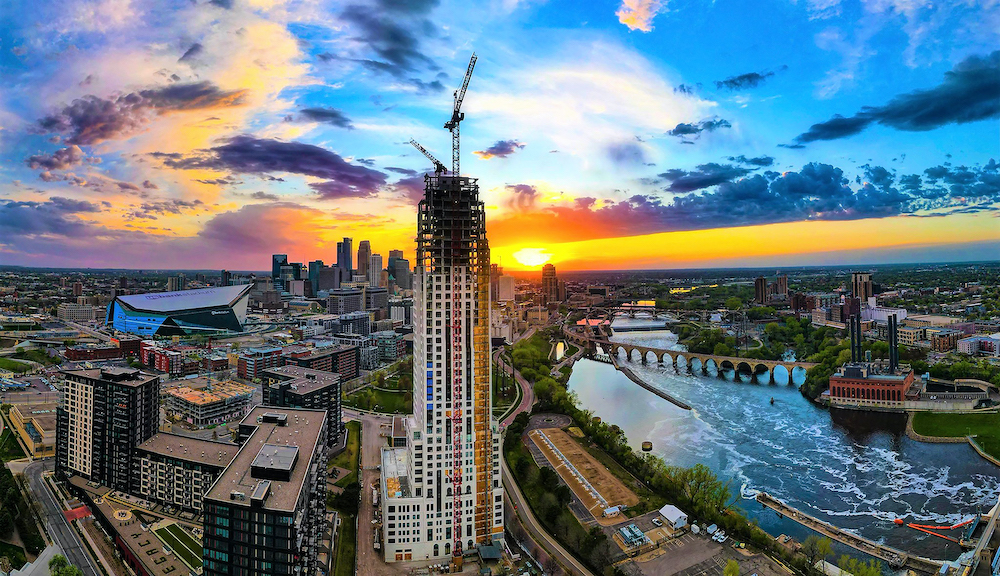 When the builders of what would become Minneapolis' tallest residential tower needed a trusted integration partner, they chose LVC Companies. LVC's scope of solutions included designing and installing fire alarms, life safety,
security
, structured cabling and emergency communications systems.
Orchestrated by Robert A.M. Stern Architects (RAMSA),
Ryan Companies
and Arcadia, the Eleven riverfront condominium at 1111 West River Pkwy is a feat of engineering, technology and collaboration. Even during construction, it quickly became an eye-catching part of the City of Lakes skyline.
Sleek and stylish by design, Eleven offers luxurious living quarters and ample amenities. The 42-story structure rises 550 feet from the historic Mill District, houses 118 residences and is the city's tallest building created since Capella Tower in 1992.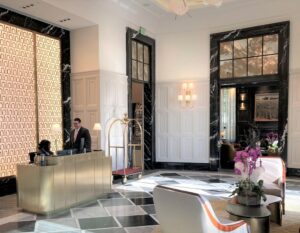 LVC's security solutions assist operations and security personnel in safeguarding tenants and the premises.
LVC Companies played a multi-faceted role in ensuring Eleven's critical operating technologies match the building's breathtaking exterior. On the connection front, LVC engineered a fiber communications trunk that serves as the backbone of the DistributedAntenna System (DAS) and other networks. LVC also installed horizontal cabling within the condo units to support wireless access point (WAP) networking, sound reinforcement and TV distribution. Audio-visual systems were tied to personal structured media centers for advanced home system performance, customization, and ease of use. Additional LVC cabling supports Eleven's security and energy management networks.
Customized protection solutions were crafted to safeguard lives and assets within Eleven's elegant architecture. In
fire alarms and life safety
, LVC provided a voice evacuation fire alarm system built on
NOTIFIER by Honeywell's
high-performance ONYX 3030 platform, which excels in large-scale applications. Other notable additions included platforms to supervise and monitor the fire sprinkler system—including fire pumps—and control elevators in fire alarm conditions, plus stair pressurization and post-fire smoke exhaust systems. LVC also designed and installed two-way emergency communications to ensure connections with areas of refuge and elevator landings. LVC also installed an Aiphone stand-alone video intercom and DAS system to maximize emergency communications capabilities within the facility.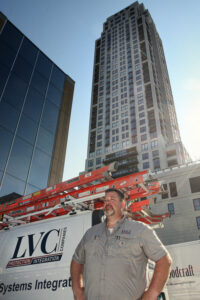 LVC Foreman Technician Chris Due was one of many LVC employees who collaborated on and off the jobsite to complete the project.
Through it all, LVC's team of experts conquered numerous challenges including a complex multi-phase construction schedule, coordination with numerous other building trades, and transporting staff and materials on a bustling external elevator encumbered by COVID rider restrictions.
"LVC was able to keep up with our fast-paced schedule and were extremely instrumental in getting us across the finish line for a successful building turnover," said Ryan Companies Superintendent Tony Palo. "Even with some last-minute curveballs thrown by the AHJs, LVC was able to adapt and overcome. Not an easy feat for a complex building like Eleven."
From humble beginnings in a two-acre parking lot to a stunning addition to the city skyline, Eleven stands as a testament to the spirit and resilience of Minneapolis. LVC Companies is proud to have played a role in connecting and protecting those who call it home.