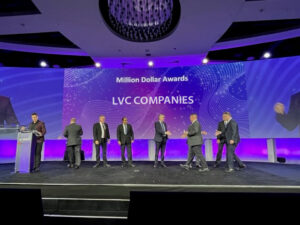 LVC Companies' exceptional levels of service and sales have again earned Million Dollar accolades from Notifier by Honeywell, the world's largest manufacturer of engineered fire alarm systems.
Since 1994, Notifier has routinely recognized LVC with honors including the Million Dollar, President's Circle and Diamond Distributor awards.
"Congratulations to LVC for once again achieving million-dollar distributor status!" said Notifier Regional Sales Manager John Muhle. "LVC's reputation and partner relationships have made the company the 'go-to' resource for even the most complex fire alarm applications. I have no doubt LVC's dedication to technology, innovation and customer service will lead to continued success in years to come."
"Receiving this and other awards numerous times is a testament to LVC's commitment to innovation, excellence and our customers in everything we do," said LVC President and CEO Bert Bongard. He noted that the longtime partnership with Notifier has allowed LVC to provide customers with an array of fire alarm and life safety solutions including advanced smoke- and gas-detection technologies, fire system components and integrated platforms that unite fire alarm systems with security, access control, video surveillance and more.
Notifier has been a leader in the fire alarm industry for more than 60 years. Today the company is the largest manufacturer of engineered fire alarm systems with over 400 distributors worldwide and regional support operations on every continent.