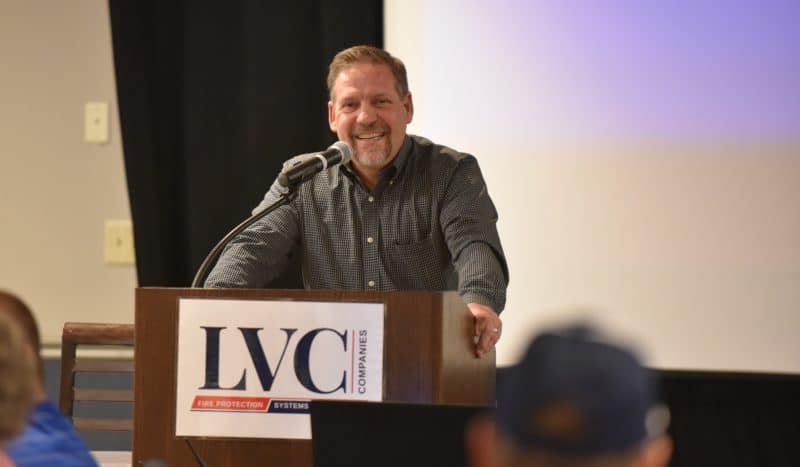 The start of a new year has brought many new and exciting changes for LVC. Due to continued growth and company vision it has been imperative to execute a strategic plan that positions the company now and for continued future success. This plan has been in motion and has now been announced company-wide. With the announcement, some key promotions and appointments were made, setting the stage for another remarkable year and the focus on the future.
Effective immediately Bob Hoertsch will be assuming the CEO role and is promoting Bert Bongard to President. Bob has been involved in the fire alarm and security industry since 1971 and has enjoyed almost 30 years with LVC. "It was important to take what we have built so far, and continue moving toward our future vision", says Bob. He further explains, "We have remarkable talent and adding and filling some key leadership roles with those individual positions will help us achieve our next level of success." Bob will remain active at LVC and looks forward to the exciting years ahead.
Bert joined LVC in 2011 and came with over 25 years of combined industry experience in multiple facets of business. Bert started out as a technician and rose through the ranks and has held many positions including executive management and ownership within the industry.
Bert's first order of business when joining the LVC team was to establish and build a structured cable division. Recruitment of a successful team of industry talent along with leadership led to the rather quick establishment of that department. "It was an important step for LVC," explains Bongard, "giving us the infrastructure to be a single source provider for technology systems." After three short years, Bert was promoted to oversee sales for all our installation divisions including fire alarm, integrated security, and structured cable – a position which he held for another two years.
In January 2015, Bert again assumed a larger role with LVC and was named Vice President of Sales and Marketing. In addition to amazing revenue growth in that two-year period, Bert directed the sales alignment transitions with the acquisition of J.N. Johnson by LVC. In May 2015 LVC added a fire sprinkler division and an industrial fire suppression division. The acquisition of J.N. Johnson in May 2016 gave LVC the full capabilities as a national, full-service fire protection and life safety contractor.
Bert's vast experience and successful background made this an obvious transition for him and the company. Bert has a track record of building successful businesses and he has done so with extreme dedication, creativity, respect, savvy decision making and forward thinking. "Success comes down to some basic principles. You must be passionate and dedicated to what you are doing and always keep an eye on the future of things. You must be and set the example people can respect and trust. Making decisions, however tough at times, requires as much information as possible while keeping emotions at bay. Most of all it's all about recruiting and cultivating the right people while empowering and supporting them to perform at high levels".
Keith Kranz was promoted to Sales Manager – with responsibility for managing the fire alarm, security and structured cable sales reps in Minneapolis and Rochester, MN and Eau Claire, WI. Keith has been an employee of LVC since 2005 and has held many roles including service manager, technical consultant, system sales and market development. His most recent assignment was in establishing our regional office in Rochester, MN. In addition, Keith is always involved with new company initiatives or ventures, is active in the security industry and has been recognized by PSA as a Rising Leader.
Just over three years ago, Brian Gould moved from service manager in Minneapolis to branch manager at LVC's Tempe Arizona office. At the time, Brian saw the potential in that market and had a vision for how to take the branch and grow it. In the last three years, Brian and his team have more than doubled the size of that location. Brian's professional growth has led to his promotion to Operations Manager. After a transition this spring Brian will be relocating back to Minnesota and will oversee the installation and project management teams at the Minneapolis headquarters.
Brian's pending departure from the Phoenix office provided an opportunity for another long time LVC employee to be promoted and assume the branch manager role. Gary Laborg was promoted to Arizona branch manager. Gary was instrumental for the inception of our Phoenix office in 2009. It was his client who asked that LVC have a Phoenix presence so we were better able to take care of their large operation in that market. Gary started with LVC in 2001 as a technician in the field, and his quality of work and service set the stage for his entrance into the office as a project manager and eventually an account executive. Gary has cared for his clients taking on a hybrid role of sales and project management. This combination has proven successful and has made him one of our top account reps year over year.
Brian Andes was promoted to Suppression Manager. Brian was a former employee and returned to LVC in December 2015. He spent that time away building a reputation in the industry as a fire protection expert. He is responsible for solving many complex scenarios over those years and thrives in designing systems that are solutions for protecting high value and critical assets. "I had a vision for this department," says Andes, "and I was thrilled to be named to the Industrial Fire Division Manager role." In this role, Brian will be instrumental in growing our business ventures for heavy industrial and mission critical applications.
While many moves were made official at one time, the synergy's and framework have been building over last few years. "LVC has been a respected and trusted partner for many years," says Bongard, "and we need to maintain a strong management team to continue carrying our reputation and vision for growth forward. Our focus is to drive the LVC brand while continually striving to become stronger than ever before." "I am proud to be serving as President and excited for the future of LVC".
In addition to the newly added or promoted positions, also on the management team for LVC include the CFO Jeff Nelson, Hibbing branch manager Corey Kangas, portables service manager Robert Allee, service manager Don Day, marketing manager Robbie Danko, director of project management Zach Delsman, and installation manager Jeremy Hanzel.