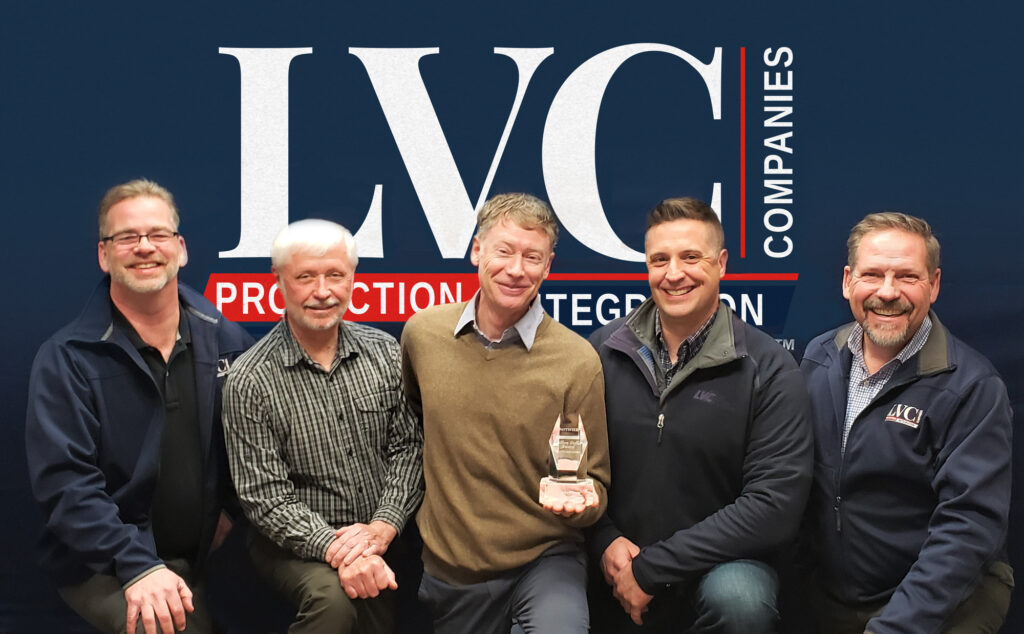 LVC Companies' exceptional sales and service have again earned a Million Dollar Award from Notifier by Honeywell, the world's largest manufacturer of engineered fire alarm systems.
Since 1994, Notifier has routinely recognized LVC with honors including the Million Dollar, President's Circle and Diamond Distributor awards.
"Congratulations to LVC for making it again to million-dollar Notifier distributor status!" said Notifier Regional Sales Manager John Muhle, who presented LVC with the award. "LVC's stellar reputation and relationships with partners in the electrical contractor, architecture and engineering communities have made LVC the 'go-to' resource for even the most complex fire alarm applications.
"I have no doubt that LVC's dedication to technology, innovation and customer service will continue to make them a leader in the life safety market," he continued. "As an early adopter of the latest Notifier systems, LVC forged a new path to the future of fire alarm and fire alarm communications, which will undoubtedly lead to continued success in years to come."
"LVC is committed to innovation, excellence and our customers across all of our product lines and services," said LVC President and CEO Bert Bongard. "Receiving this and other awards numerous times is a testament to the merits of this philosophy—which is reflected in the efforts of our dedicated technicians, technology consultants, project managers, designers, and everyone else involved in the creation, installation and service of industry-leading protection and communications solutions."
Bongard noted that LVC's longtime partnership with Notifier has allowed LVC to provide clients with an array of fire alarm and life safety solutions including advanced smoke- and gas-detection technologies, fire system components and integrated platforms that unite fire alarm systems with access control, video surveillance and more. "We are determined to be the technology leader in every product category we offer, and our Notifier partnership helps us accomplish this in fire alarms and life safety," he said.
Notifier has been a leader in the fire alarm industry for more than 60 years. Today the company is the largest manufacturer of engineered fire alarm systems with over 400 distributors worldwide and regional support operations on every continent.