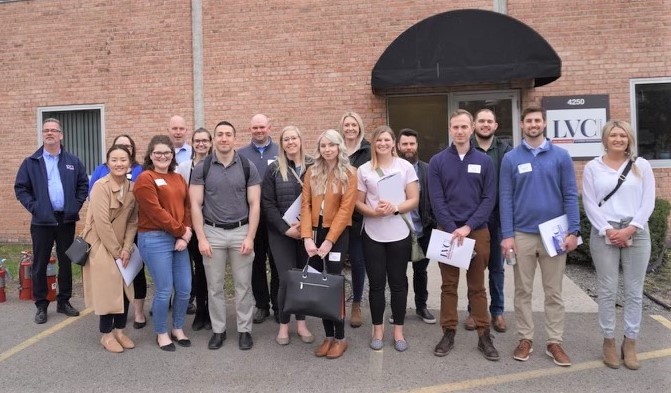 LVC Companies welcomed 20 aspiring commercial real estate professionals to our Edina, Minnesota, headquarters Thursday, May 5 for an educational session on property management trends and technologies.
Attendees are members of the Building Owners and Managers Association (BOMA) Greater Minneapolis trade association's BOMA Young Professionals (BYP) program.
BYP is a nine-month series of classes and networking events open to anyone employed by a BOMA Greater Minneapolis member company who is new to the industry within 5 years and would benefit from classes focused on the core topics of commercial property management.
"Attendees enjoyed hands-on sessions on fire alarm and security technologies in LVC's educational Suite 16," said LVC Service Sales Supervisor and company BOMA representative Jim Oelhafen. "As well as a deep dive with LVC Sales Manager Mike Botten into industry challenges and solutions in everything from Distributed Antenna Systems (DAS) to destination elevators."
Participants were also treated to portable fire extinguisher training with LVC Portables Supervisor Andy Freiermuth. A veteran of LVC's live fire training programs and portable fire extinguisher services, Freiermuth walked attendees through the basics of safely stopping fires—then gave each a chance to put their newfound skills to the test.