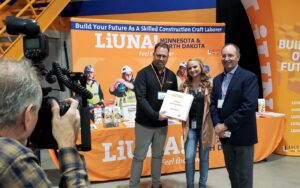 As a proud union contractor, LVC Companies is always honored when we're chosen to assist unions in improving their facilities. Recently, LVC was commissioned to design and install a state-of-the-art audio/visual system for the Laborers' International Union of North America (LIUNA) at their training facility in Minnesota. Keep reading to learn how our technicians were able to transform a warehouse space into an optimized union event venue with cutting-edge A/V capabilities.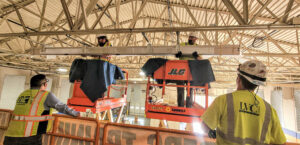 Our A/V Project for the Laborers Training Center
When designing an A/V system for our clients, LVC's goal is to achieve the functionality of a complex system but with a simple method of operation. Our team provides a comprehensive range of services, which includes designing an A/V system that will perform optimally in the designated space, installing that system so that it runs flawlessly, and performing any necessary maintenance to keep the A/V system running for years to come.
LIUNA needed LVC's assistance for a particularly challenging project: designing and installing an A/V system for the Laborers Training Center in Lino Lakes, MN. The space in which we needed to work was a large, open, concrete building with a 24′ high ceiling. This warehouse setting was designed to accommodate hundreds of attendees during events. Creating a sound system with maximum volume and no feedback for a space of this size proved to be difficult, but not impossible for our talented A/V crew.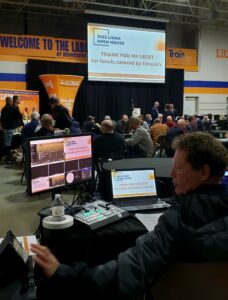 Our audio system in the Laborers Training Center includes wireless microphones and a digital signal processor which is pre-equalized for the room, minimizing the need for hands-on control. When adjustments do need to be made, they can be performed easily from a 10″ touch panel, negating the need for an old-fashioned sound mixing board. These innovations allow for simplistic operation by the LTC's staff.
To accompany the audio system we set up for the Laborers Training Center, our technicians also installed a video component in the form of a projector and a 16′ tall lowering screen. This screen was so large that we needed to use a lull with a fork attachment and two scissor lifts to lift it into place! We synchronized the screen to automatically lower when the projector is turned on for maximum convenience. A laptop can be plugged in to stream video to the projector. The entire A/V system can be easily controlled from an iPad.
Completing this project for our union partner was a rewarding experience. Our new A/V system was utilized for the first time at an event on 10/14/2022, which was a huge success! Prior to the installation of this innovative A/V system, LIUNA was forced to rent A/V equipment and technicians to operate them every time an event was hosted at the Laborers Training Center. Not only was this highly inconvenient but it was also very expensive. By cutting out the needs for these rentals, our A/V system will pay for itself within two years.
Does Your Commercial Property Need an Advanced A/V System?
If your company has an outdated A/V system or you're tired of having to rent the equipment you need, let our technicians design and install a brand new A/V system for you. Contact LVC Companies today to ask us more about the A/V equipment we can set up for your business!