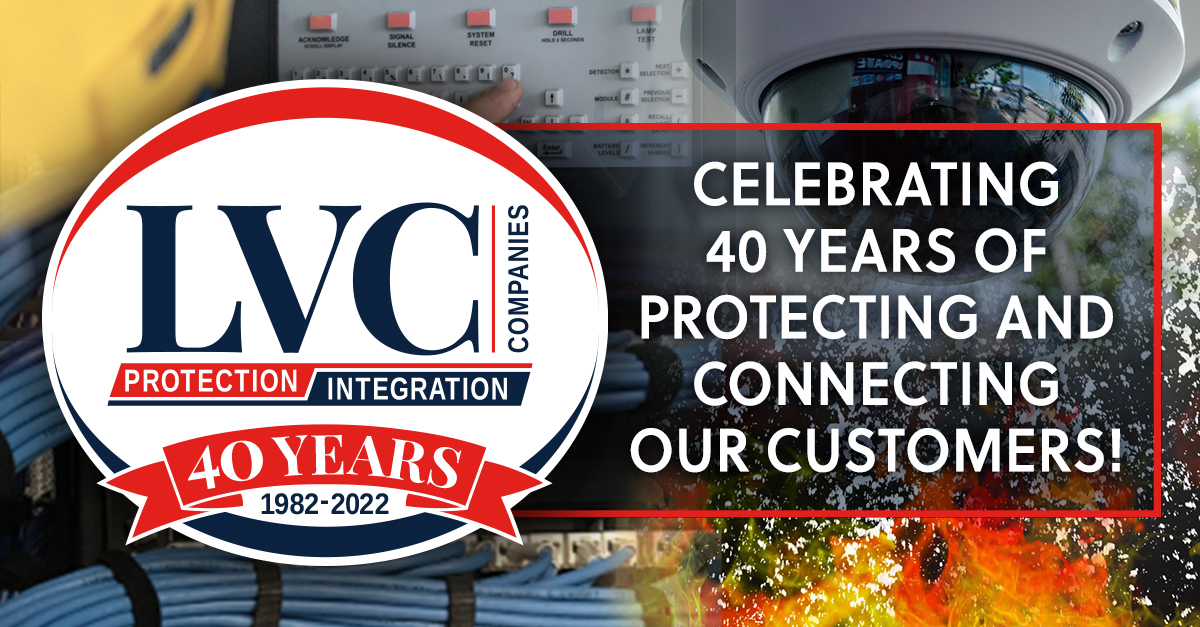 LVC Companies is proudly celebrating 40 years of protecting and connecting customers with state-of-the-art technologies and exceptional service.
Founded July 26, 1982, the company is headquartered in Minneapolis with regional offices in outstate Minnesota, Wisconsin, North Dakota and Arizona, along with a national footprint offering targeted security solutions.
Over the years, LVC has grown to a full-service technology provider with more than 250 employees. LVC's diverse offerings include fire protection, fire alarms and life safety, security solutions, structured cabling/infrastructure, audio-visual (A/V), distributed antenna systems (DAS) and emergency communications.
"Our success over the past four decades is first and foremost due to our dedicated staff," said LVC President and CEO Bert Bongard. "Their loyalty to LVC and commitment to excellence helped us stand the test of time as a trusted partner and service provider. Our continued growth is driven by their support of our mission to be an industry-leading technology systems company dedicated to customer satisfaction, employee advancement, industry involvement and giving back to the communities we serve."
LVC continually expands its services and works closely with industry partners to develop new solutions, Bongard added. He noted that many LVC projects integrate two or more types of the company's products and services, providing customers with a single source for integrated technology needs. "We consult, design, install and service all of our offerings, allowing us to deliver comprehensive, customized solution packages," he said. 
LVC's participation in the 2022 completion of the 42-story luxury condominium Eleven on the River in downtown Minneapolis is just one example. LVC provided a network of video surveillance cameras, an integrated access control system, structured cabling to support tenant amenities and the building's Operating Technology (OT) network, plus a fire alarm system, fire suppression system monitoring, stair pressurization, area of refuge/two-way emergency communications and a distributed antenna system.
Over the years, LVC Companies has received numerous industry, vendor and governmental awards including the 2022 Bill Bozeman Integrator of the Year from the PSA Security Network and Security Systems News (SSN), Integrator of the Year from Security Distribution and Marketing (SDM) magazine, the Minnesota Governor's Safety Award 12 times since 2007, NECA's Safety Excellence and Zero Injury awards, multiple Honeywell Diamond of Excellence and Million Dollar awards, ANSUL Double Diamond and Honeywell's Community Service Award.
"We are proud of serving our customers, vendors and community at the highest level while continually offering the latest technology. We look forward to protecting our partners and connecting them to the world for decades to come," Bongard added.